| | |
| --- | --- |
| | Views Beyond the Catflap |


Jessica Bavinton from London/UK has started an interesting project called Views Beyond The Catflap with her friends and cats, powered by the CatCam:

Jessica and a curious group of cat-lovers have turned detective - by strapping mini-cameras to their pets collars to gather photographic evidence of their adventures. The friends have formed the Views Beyond the Catflap group, and are looking for more roaming feline volunteers to join their project. They want to lend out the lightweight camera to other cats and display the colorful results in a series of exhibitions (the first takes place on October 15th). And there is also a 2009 calendar in the pipeline - all to raise money for charity Pets as Therapy, which lends animal to sick, elderly, disabled and lonely people to help with their rehabilitation.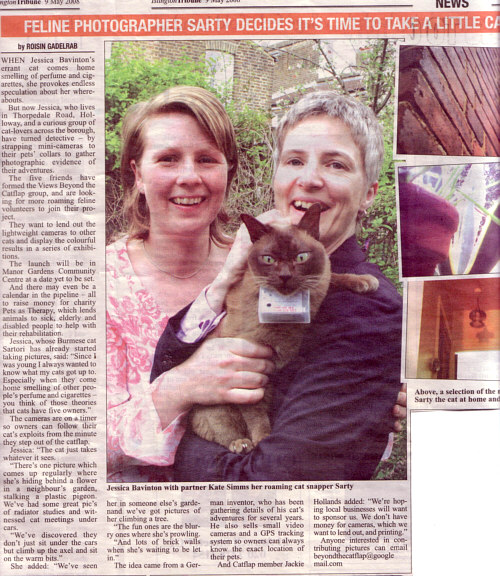 Her project was mentioned already in several newspapers: Islington Post

The groups website with exhibition information: www.beyondthecatflap.org.uk

2009 CatCam Calendar website: Beyond The Cat Flap Calendars!

Pets As Therapy website: www.petsastherapy.org